23
04
2011
Tripawds is a user-supported community. Thank you for your support!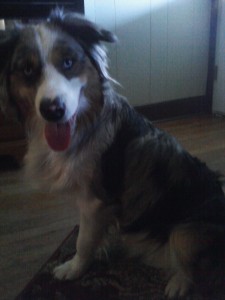 Hey all! It's been a long time but I'm doing awesome!  I passed my 1 year ampuversary and am doing incredible, mom says I'll never slow down. I spent the winter learning how to herd the horses and it's one of my favorite things to do, although they don't seem as happy about as I do! But mom says it keeps me busy and out of her hair. I started some agility training and I love that! It's great, I get to run around and do tricks and have sooo much fun doing it! Mom's been taking me to other farms too, so I can play with even more critters and people.
My favorite thing to do is swim, although mom seems to frown on that during the winter! But the horses water trough looked like a swimming pool! Totally not my fault that I soaked everyone around me too! Now that springtime is here we've been hiking a lot more and soon, very soon we'll be able to swim all the time! I can't wait!
Road trips are also very awesome, the whole family got to go to NY for Christmas and I got to see my cousin, Bella! She's as crazy as I am, so we spent the entire time running around and terrorizing all the kids (they loved it as much as we did) Plus, gramma has a ton of land, so we spent all day and some of the night, running and chasing deer, cats and all kinds of random things. I slept the entire 8 hours home!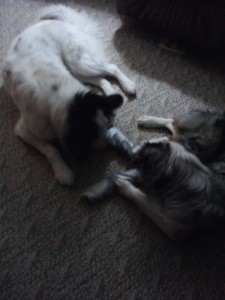 Mom says I have to get off the puter now 🙁 Something about an Easter Bunny coming soon…I wonder if I can chase him too? ! BOL!
Comments :
5 Comments »
Categories :
Uncategorized